May 28, 2019
Why Classroom Activities Have An Impact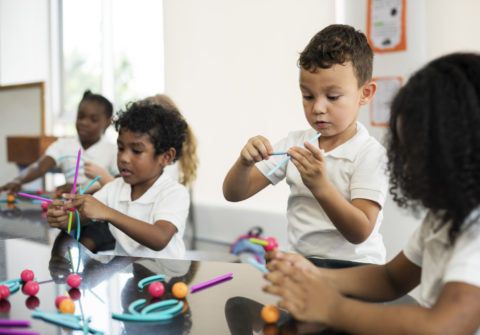 Every parent wants their child to be top of the class. One of the biggest methods that teachers use to aid the learning process and improve engagement is classroom activities. This isn't so the teacher can rest their voice for a few minutes and take a seat, although that wouldn't go amiss either. Classroom activities are a staple of lesson plans for good reasons.


How Do Classroom Activities Play Out?
For some parents and grandparents, classroom activities never made it into the classroom when they were at school, or if they did, it was in dribs and drabs. Although most classroom activities will somewhat differ between subjects, topics and teachers, most lessons will look something like this:
Introduction to topic
Briefing on the activity
Children set into groups and given tasks
Children work together to complete tasks
Children feedback their results to their peers
Teacher debriefs activities and the topic with feedback
While children get to work on completing activities, teachers and teaching assistants will float between groups to provide feedback and offer support.
Meeting Learners' Needs
No two children are the same and they certainly don't all learn in the same ways either. A single classroom will be mixed with visual learners, auditory learners, those that learn by reading and kids that like to get hands on. Classroom activities can tap into all of these learning styles so children all receive the teaching that works for them. Compared to a classroom with a sole textbook and a blackboard, classroom activities are more fluid, more engaging and provide for everyone involved.
They Enhance Problem Solving Skills
Problem-solving is a valuable skill throughout life, so teaching kids how to face problems should start at a young age. One of the biggest advantages of classroom activities is that they help in this area. They get children into a type of learning known as guided discovery. Rather than being told the problem and the answers, some activities will just present the problem for children to discover the solutions on their own. This improves critical thinking and creativity as well!
Developing Teamwork
Rows of single desks may be a thing of the past but a classroom without activities will still not develop teamwork and communication between children, classroom activities will because they are most often completed in small groups. This means that those problems we discussed earlier need children to come up with solutions together and may even be their first exposure to leadership training and empathy.
Make Sure Your Kids are Prepared for School
Is your classroom ready and stocked for classroom activities? No? That's okay, we've got plenty in our school stationery range! Get in touch with one of our friendly team for more info!