Sep 21, 2021
Happy World Rhino Day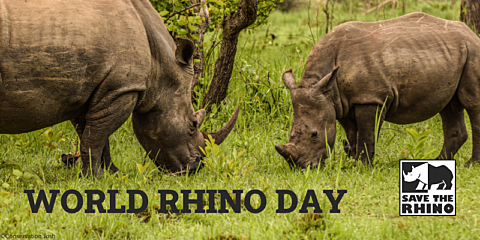 As we approach World Rhino Day, 22nd September we can't wait to celebrate our passion and commitment for helping rhinos. This global event celebrates the world's five rhino species. Save the Rhino's vision is for all five species to thrive in the world for generations.

Here at Rhino Stationery, 22 September marks a very special day in our calendar, we are celebrating World Rhino Day along with our chosen charity, Save the Rhino International!

Marking its 10th anniversary this year, World Rhino Day is a global event that celebrates the world's five rhino species, and we are reminded of Save the Rhino's vision; for all five species to thrive in the wild for generations.
How Save the Rhino act quickly to save rhinos
The illegal wildlife trade is the world's fourth-largest illegal trade. Rangers and law enforcement agencies are always on the alert for information that can help them to act quickly and prevent poaching. Save the Rhino have worked successfully with expert handler and dog teams to apprehend poachers after miles of tracking, bloodhounds have been used since the Middle Ages to track human scents. More recently, these skills have come into demand for conservation.
Buying Rhino Saves Rhinos
Every sale of Rhino Stationery helps Save the Rhino with our regular donations to the UK charity – over £100,000 since 2006. Thank you so much for your help and support! remember every sale helps our chosen charity.
Our Save the Rhino range are all made from 100% recycled materials so you can wander until your heart's content while helping to protect the environment and help make a difference to the natural world around us.